Cliente: J. Macêdo
Projeto: Comunicação corporativa e Endomarketing
Solutions: app development for internal and external audiences; corporate communication; endomarketing actions.
A true giant in the food industry, J. Macêdo has more than 80 years of tradition, has the largest wheat processor in Brazil, and owns extremely well-known brands such as Dona Benta, Sol, Petybon, Brandini, and Favorita flour.
challenge:
For over two years, Agência Vision developed several projects in partnership with J. Macêdo. There were intense works in all fronts, especially corporate and internal marketing.
solutions:
We highlight the development of applications for internal and external audiences, creation of promotional materials, corporate communications and internal notices, logos for various internal areas of the company, endomarketing actions for pasta factories, strategic actions for communication with its employees, development of actions for third sector initiatives, tracking applications for buyers to locate their purchases, and also an application with company information for all employees (including those who had no access to corporate email).
internal marketing– INTERNAL PROGRAM RELEASE
In an event for the launching of the Safety, Health and Environment Program, the Vision Agency set up a training room at J.Macêdo's plant in São José dos Campos.
The agency created the KV and everything that was derived from it for this action, besides accompanying the installation of the pieces:
Stage Panel
Banner
Notebook
Mobiles
Gifts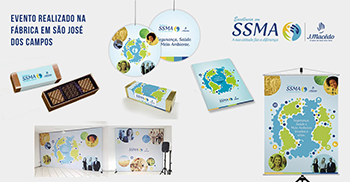 APP internal MARKETING
Developed so that all J.Macêdo's collaborators, including those who do not have corporate e-mails, could have access to the company's information in a fast, objective and very practical way, with the possibility of remotely managing all its content.
APP developed for off-line viewing:
Internal campaign information
Anniversaries
Ethical Conduct
Our company
Recipes
Suggestions
Videos
Push notification
ORDER TRACKING APP
J.Macêdo had a communication gap with its customers regarding the consultation of their order status and commissioned Agência Vision to develop an iPhone and Android application that would make this connection, as well as a web version.
The agency developed all the programming to consume data directly from J.Macêdo's server to consult orders and their status, speeding up the day to day of customers and providing information about their orders in real time.


CHRISTMAS CARD
J. Macêdo requested the creation of a differentiated card, which would be interactive, with low cost, and the project developed by Agência Vision exceeded the client's expectations. The card had a special cut in the shape of a Christmas tree, with several Christmas messages, to be highlighted and assembled. Besides the printed version, the agency also created an animated online version to be shared via Facebook that looked amazing!