Customer: FC Nuvem
Project: Webseries: FC Tech Talks – A dialogue about trends and innovation.
Solutions: Vision was challenged to create, amid the pandemic, a strategy that could engage and inform its customers as well as innovation stakeholders about market trends.
Known as a company that is always thinking about innovation, FC Cloud aims to facilitate the digital transformation of companies that want to become 100% digital, offering everything from support, services, and training.
And, as a way to continue transmitting knowledge and market news, even in the context of the pandemic, the company, in partnership with Vision, saw in the culture of streamings, the opportunity to develop a webseries with recurrent and relevant content about the technology and innovation market.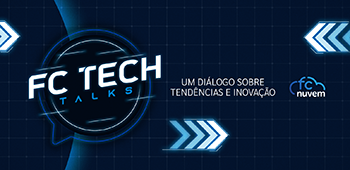 challenge:
Create an online action to promote the engagement of a highly qualified audience that was interested in subjects related to the technology and innovation market: CIOs, CTOs, and IT Managers.
strategy:
Develop a webseries with an interesting and relevant storytelling to the audience of interest, as well as disseminate it in strong and priority channels of the company to generate leads and attract new potential customers. To leverage the communication strategy, the episodes were versioned into podcasts and then aired on large audience streaming platforms such as Apple Podcasts, Deezer, Soundcloud, Google Podcasts, and Spotify.
solution:
Vision created a webseries, FC Tech Talks, divided into 5 episodes of up to 45′ and carried out all its production, in the simu-live style, on FC Cloud's YouTube channel. Each episode featured a guest expert on the announced subject who debated the trends and innovations – in real time.
To amplify the action, a publicity strategy was developed that included several pieces of communication and a central landing page for each episode launched – with the goal of generating leads. The communication was elaborated with triggers to invite people to watch each chapter. At the end of the season, the webseries was made available in video format on Youtube and in podcast format on the streaming platforms Apple Podcasts, Deezer, Soundcloud, Google Podcasts and Spotify. This spreading, attracted a greater amount of interested audience, thus generating a positive result.
OUTCOME:
The client's pains were solved and the series was a success in terms of content and audience.
TO KNOW
For more information about creating a webseries video and/or podcast communication strategy, as well as the advantages it can bring to your company and your sales, contact us through our WhatsApp: (11) 5042-2004.