The race to be the favorite social network for content creators remains fierce in 2021. Social networks are launching new features so that these professionals can increase their monetization, as was the case of Twitter, when it launched the Tip Jar tool, as we covered in this article. Now it is Instagram's turn to offer new tools.
Until then, creators monetized their work by only posting sponsored content, but the transactions didn't happen within Instagram. The company wants to make it easier to monetize content so that creators can make money from the app. Also, by keeping all revenue-generating activities within the social network, the company can charge service fees.
But how will making money with Instagram become easier? Content creators will now have not only new possibilities for their existing work of contacting brands, but also possibilities to create e-commerce stores and join affiliate programs.
Check out the new features that will be available for content creators:
Creator Stores
A space where any user, even with regular accounts, can sell items to their followers. Instagram's creator stores are an extension of Facebook's stores and is a feature that is already available.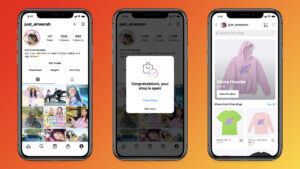 Affiliate marketing
Following the traditional assumption of affiliate marketing, it is a way by which creators will be able to earn money from product referrals through the platform. When a user makes a purchase through the link indicated by the content creator, the content creator will earn a commission for the sale.
According to Facebook CEO Mark Zuckerberg, "Creators should be able to get a cut of the sales from the things they're recommending, and we should build an affiliate recommendation marketplace to allow that to happen."
The development of an affiliate recommendation marketplace will allow content creators to find more products that align with their values and recommend them with more favorable terms than affiliate programs currently on the market.
Users will also be able to know when the referral is connected to the affiliate marketplace. Product submissions will have a "eligible for commission" label at the top of the post, making it clear that their purchases help support the creator.
The new feature will be tested first with a small group of US-based creators and companies, including Benefit, Kopari, MAC, Pat McGrath Labs and Sephora, and will expand to more partners later.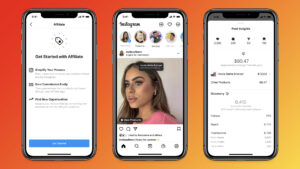 Stamps
Content creators can also, from now on, earn money on Instagram through Instagram live's selfies tool. A feature that already existed, but has been improving and offering new ways to monetize. Now creators will also be able to receive an extra payment when completing certain missions, such as making a live broadcast using another account.
Brand + Creator Connection
For the future, there is still talk of a tool to promote the connection between brands and creators. This tool, also to facilitate the goal of making money with Instagram, would be a kind of marketplace to promote "matches" between creators and branded content opportunities. A tool to help brands find the right creators for their campaigns.
According to Adam Mosseri, Head of Instagram, the platform needs to be able to help brands find creators that are uniquely aligned with the work they are trying to do and vice versa.
This will simplify the process of establishing brand partnerships for both parties. And it can also help bring attention to creators who might not otherwise end up on a brand's radar. Since this is work commonly done by influencer agencies, it's worth keeping an eye on how the market will behave with this Instagram innovation when it goes live.